Most technological devices and platforms in the present are becoming smart, from mobile phones to the power grid and from Electric Vehicles (EVs) to EV chargers. Smart charging electric vehicles is a great way to ensure savings, deliver power flexibility features, and enjoy many other advantages at the moment of charging EVs. This is both true for EV drivers and EV charging station owners.
Understanding what is smart charging for EVs will help you to choose your EV charger carefully and take full advantage of them. In this article we provide you with a complete guide on smart charging, the most relevant features, and how they work. Additionally, you will have a tailored list of the best commercial smart EV chargers available along with some of the most frequently asked questions on the subject.
What is a Smart EV charger?
Non-smart EV chargers deliver the rated power of the device until the EV battery is fully charged. Smart EV chargers, on the other hand, feature advanced communication and control protocols that provide flexibility and reliability during the charging process. Smart EV charging technology defines charging parameters by featuring constant communication between the EV, charging operators, and the utility.
Smart EV chargers allow drivers and charging station owners to monitor the whole charging process and even modify some or all variables. EV smart charging can adapt to Time of Usage (ToU) electricity tariffs, variable power availability, or to any other need that arises during the charging process.
How Exactly Does Smart Charging and Smart Energy Management Work?
EV drivers will regularly want two things from smart EV charging: transparency and flexibility. These are delivered as follows.
Electric vehicle smart charging provides transparency to the EV driver through real-time monitoring. The EV charger mobile or desktop platform details all aspects of the charging process, including power rate, energy cost, and energy source (power grid, battery bank, or another). Additional items may be shown depending on the software of the charger.
Smart car charging also delivers charging flexibility to EV drivers by allowing them to charge anywhere within a network of smart EV chargers featuring the same operator. This feature makes the whole charging process more autonomous since drivers can arrive at any station, charge their EV, and pay directly via the mobile app.
How do EV Smart Charging and Smart Energy Management Work?
A smart EV charger provides customization and automation on the charging process, delivering control over the adjustments to the operator and EV drivers while optimizing the whole charging process. Some of the smart features these chargers include are load management, Time of Usage (TOU) optimization, Power Boost, Dynamic Power Sharing, remote monitoring, and more.
The smart EV charger is in constant communication with the power grid, the EV, and the operator by using WiFI or a 4G/5G network. Some chargers require additional components to deliver this advanced level of communication and control, but most of them already include the necessary components.
A smart charger for EVs uses a data transfer protocol known as Open Charge Point Protocol (OCPP), which is a language or library used for all EV chargers that makes it easy to communicate between different EV chargers, EVs, EV charger mobile app developers, power grid operators, and more.
Most Relevant Smart Charging Features
A smart charging station includes many different features, but three of them are considered the most relevant ones. These are the following:
Power Sharing
A facility cannot have installed a standard EV charger whose nominal capacity surpasses the maximum capacity allowed by the electrical infrastructure, however, this is possible with smart car chargers. A smart charger with a power sharing or load balancing that distribute the charging capacity among EVs. Some chargers also feature different priorities for power sharing, some of the main ones are the following:
Stalls that will charge faster than the others.
Equal power distribution among all installed stalls.
Priority charging considers the charging state (Percentage) of the EV.
With the power sharing feature, businesses can install a larger number of EV chargers using their existing electrical capacity. This is mainly possible because the EV chargers with power sharing will distribute power among different EVs when many drivers are charging simultaneously. However, when only a single or few EVs are connected, the electric vehicle smart charging station will be able to run at full power.
Power Boost
Power boost is an EV smart charging feature that measures the load at the building and limits the capacity of the EV charging stations to the remaining available capacity at the electrical infrastructure or the contracted capacity with the electric utility. This feature is also known as a peak-shaving feature since it limits the load represented by the charging stations to avoid high peaks in the demand.
While this features limits the maximum demand of the charging station, it does not regulate how the current is distributed among the charging stalls. This means that there are no charging priorities applied when using this feature.
Dynamic Power Sharing
The Dynamic Power Sharing (DPS) smart charging feature combines power sharing and power boost features, making it extremely useful for charging stations in large buildings.
The DPS simulates the Power Boost feature by monitoring the maximum energy capacity at the building, prioritizing the need of the building, and delivering the remaining capacity to the charging station. This feature also imitates the Power Sharing feature by distributing the power among EVs depending on the chosen priority.
What are the Benefits of Smart EV Charging?
Replacing an EV charger with an EV smart charger will provide numerous benefits for charging station owners, EV drivers, and even the power grid. These are some of the most important ones:
Higher flexibility to the power grid. A smart grid can communicate with a smart EV charger to reduce the load from the charging station or demand power (Bidirectional capability is required) to ensure energy flexibility during emergencies.
Optimal usage of the available electrical infrastructure for EV charging.
Possibility to install high-capacity smart EV charger models with limited electrical infrastructure. This allows EVs to rapidly charge with an AC Level 2 charger at up to 22kW.
Reduces peak power demand charges.
Remote monitoring with real-time analytics of the smart EV charging parameters.
Load energy management control.
Best Smart Electric Vehicle Chargers
Whether you want to install a new EV charging station or replace regular chargers in your business, it is important to be able to pick among the best ones available. The following is a list of some of the best EV smart chargers in the U.S. market for commercial operations:
1. ChargePoint – CPF50 Smart Level 2 EV Charger
The CPF50 smart EV Charger is specially designed for charging EV fleets and other high-capacity applications. This EV charger is designed by ChargePoint, a company featuring more than 200,000 EV charging stations installed worldwide.
The ChargePoint smart charger for EV can be modified to deliver from 16 up to 50 amps, supplying a maximum rated power of 12kW. This smart charger also features energy management, access control, and other additional features.
2. Cyber Switching – CSE1 Smart Level 2 EV Charger
The Cyber Switching CSE 1 smart EV charger has been specially designed for commercial applications where fleets of EVs need to get charged. Available in power ratings that go from 3.5kW up to 11.5kW, this smart charging statation is capable of providing multiple monitoring and connectivity features that go from viewing real time analytics to set up load management strategies for a group of CSE 1 EV chargers. The charger is also already commissioned with AmpUp software platform for ease of used and to enable multiple payment methods as well.
3. Blink – Fast IQ200 Smart Level 2 EV Charger
Designed by Blink, a company with over 30,000 charging stations distributed across 18 countries, the Blink Fast IQ200 is one of the best and highest capacity level 2 EV smart charger options available. This EV charger can deliver up to 80 amps (19.2kW) when charging an EV. The smart EV charger features energy management, network connection with real-time monitoring, various billing and payment options, customizable pedestals, and advertising features.
FAQs about "Smart EV Charging"
Smart Energy Management is one of the most important smart car charging features, prioritizing the charging schedule for EVs based on different factors and delivering benefits depending on the application. Some factors used to prioritize charging include:
Bidirectional charging capacity to feed the power grid (Smart grid feature that improves grid flexibility)
State of Charge (SoC) for an EV (workflow optimization in Industrial EV fleets).
Electricity tariffs (financial benefits regarding ToU optimization).
Smart charging electric vehicles and bidirectional charging are different concepts, however, they can be integrated within a single EV charger model.
Smart charging includes energy management features that improve financial savings, ensure proper energy usage optimization, enhance user experience, and allow operation with limited electrical infrastructure. On the other hand, bidirectional charging is a feature that allows the extraction of power from the battery of an EV to inject it back into the grid or to power a load, delivering flexibility to the grid.
Smart charging and fast charging are also entirely different terms, but they can be integrated within a single EV charger model.
Fast charging is referred to the speed at which an EV gets charged (Fast charging uses DC power to charge EVs from 50kW up to 350kW), meanwhile smart charging is the set of protocols and management strategies used to optimize charging and deliver additional features at the charging station. An EV charging station can have smart DC fast chargers installed.
CyberSwitching EV Charger on Pedestal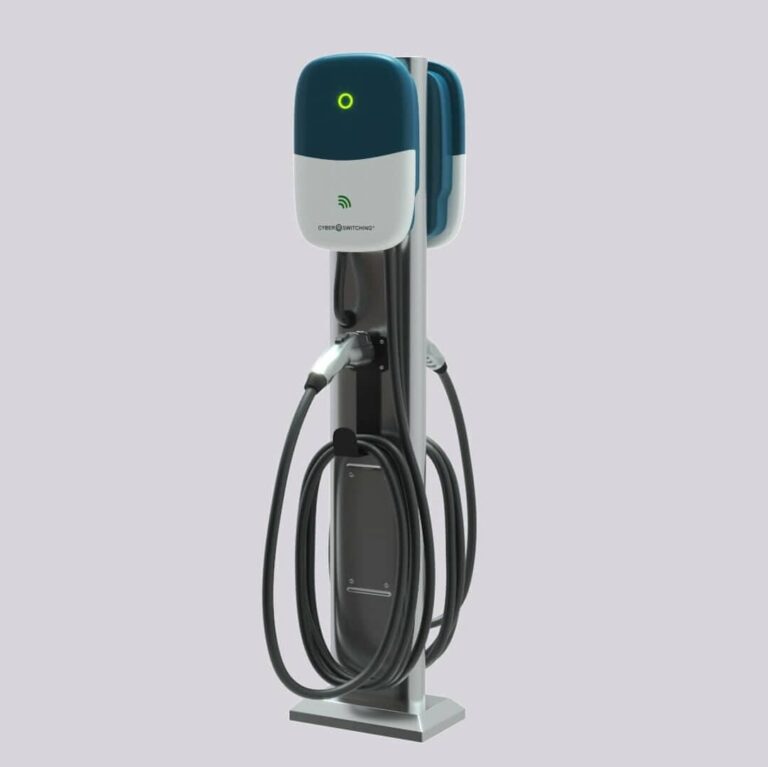 CyberSwitching Dual EV Charging Station
Nick Zamanov is a head of sales and business development at Cyber Switching. He is an expert in EV infrastructure space and he is an EV enthusiast since 2012, Since then Nick strongly believed that electric vehicles would eventually replace Internal Combustion Engine (ICE) cars.