Electric car charging companies promote investments in a product that reduces greenhouse gas emissions and that is a great business idea. Installing charging stations promotes the usage of EVs, which are cost-effective, energy-efficient, good for the environment, and an excellent option to move around. More importantly, they will be absolutely necessary in the medium-term.
If you want to install EV charging stations at your workplace, multi-dwelling unit, or as a business opportunity, you should take a look at the best EV charging station companies. In this article, we review some of the best and most popular EV charging station companies that deliver excellent products with great software, quality services, outstanding technical support, and more.
1. ChargePoint
ChargePoint is among the largest electric charging points companies, featuring a wide network of EV charging stations across the globe, granting users access to charge their EVS with a single account. ChargePoint offers services integrating hardware, cloud services, and support 24/7. This company has installed more than 60,000 EV charging stations across the globe and delivered over 123 million charges.
2. ABB
ABB is one of the best and most advanced EV charging infrastructure companies worldwide. This company offers residential solutions from 3 kW up to 22 kW and DC Fast Chargers with more than 350 kW in capacity. ABB offers a great number of EV charging solutions for industrial fleets, commercial fleets, heavy-duty trucks, buses, and more.
3. Cyber Switching
Cyber Switching is another important player among EV charging companies with over 10 years of experience as an EV charging solution that serves residential, industrial and commercial applications. Moreover, Cyber Switching also offers an integrated solution for both electrical car charging and power management optimization by integrating the EVMC, a smart controller solution that reduces electrical infrastructure costs of EVs.
4. Siemens
Siemens is among the best EV charging companies offering top-quality solutions for eMobility, including innovative software and high-performance EV charging infrastructures suited for all types of companies, EV fleets, utilities, complete cities, and end customers. Siemens designs highly advanced smart EV chargers that control every aspect of the charging process, improving performance and reducing costs.
5. Tesla
Tesla is known for being the pioneer company paving the way for the EV industry, placing itself as the best EV manufacturer and one of the largest electric car charging companies. There are over 30,000 Tesla Global Superchargers, and more than 4,500 charging destination sites. Tesla provides smart charging solutions for residential, commercial, and retail purposes, featuring regular chargers and superchargers, all of them specially designed for Tesla vehicles.
6. Shell
Shell is an energy company with more than 100 years in the market, but with a focus on the future. This company has designed clean energy and sustainable solutions, becoming one of the top EV charging companies in the world. Shell promotes its EV charging ecosystem comprised of home charging, business & retail charging, and charging on the go.
7. EVBox
EVBox is another one of the most outstanding electric vehicle charging infrastructure companies offering hardware and software for businesses dedicated to retail EV charging. EVBox features many products, including residential, commercial, and DC Fast Chargers. Other services include charging management software, certifications, firmware updates, charging platform integration, and more.
8. BP
Bp is another one of the greatest companies that install electric car charging stations, with a history dating more than 100 years in the past. Bp offers residential, on-the-go, and business EV charging solutions through its subsidiary, Bp Pulse. Bp Charging solutions are fully integrated into Bp services, granting clients the possibility to charge EVs with a Bp pulse membership or PAYG.
9. Webasto
Webasto has risen to become one of the best electric vehicle charging station companies, focusing on designing high-quality low to mid-capacity (16 – 32 amps) residential and commercial EV chargers. Webasto offers traditional EV chargers, portable solutions, business EV chargers, and the TurboDX, which is the most durable and highest capacity EV charger made by the company.
10. Hyundai
Hyundai has become one of the largest electric charging station companies offering EV charger solutions for every type of person, featuring one of the largest portfolios of EV chargers. This company manufactures residential, public, commercial, and workplace EV chargers, featuring all types of charger models, including 250 kW premium DC Fast Chargers.
11. Blink
Blink Charging is one of the car charging companies focusing on commercial level 2 EV chargers and DC Fast Chargers, integrating both into the Blink Network. EV chargers from Blink include Level 2 chargers, and DC Fast Chargers with capacities of 50 kW, 75 kW, and 175 kW, the company also manufactures high-quality residential EV chargers and mobile emergency chargers.
12. Schneider Electric
Schneider Electric is one of the vehicle charging station companies offering different types of high-performance EV chargers, eMobility building solutions, smart power management systems, and other eMobility services. EV chargers from Schneider Electric include residential chargers, Level 2 chargers for commercial purposes, and high-quality DC Fast Chargers.
13. RWE
RWE is a German utility company entering the market of vehicle charging station companies by offering competent high-performance EV charging stations for commercial and residential applications. This company partnered with EV manufacturers to create a large stock of EV chargers to place across Europe, but it also offers great EV charging solutions in the US.
14. EVGo
EVGo is one of the EV charging companies with the largest number of installations for public DC Fast Charging stations in the US, powered 100% with renewable energy. Currently, this company has placed more than 850 chargers stations in more than 60 locations across the country. EVGo offers business & commercial charging stations, EV fleets, and several high-performance sustainable solutions.
15. Efacec
Efacec is one of the electric vehicle charging companies featuring EV charging stations with high-quality designs, control systems, and performance in general. This company offers public chargers, quick chargers, and DC Ultra-Fast chargers. Efacec additionally offers Charging Point and Load Management software, alongside a great service & asset management solution for EV charging stations.
Conclusion
EV charging stations offered by these 15 electric car charging companies, are high-performing products focusing on residential, commercial, and business solutions that promote eMobility. Choosing one or another as the best one for you depends on the type and quality of EV charger you are looking for, the type and amount of EVs that you want to charge, the additional services and software you might require, as well as the available budget for this.
Featured products
CyberSwitching EV Charger on Pedestal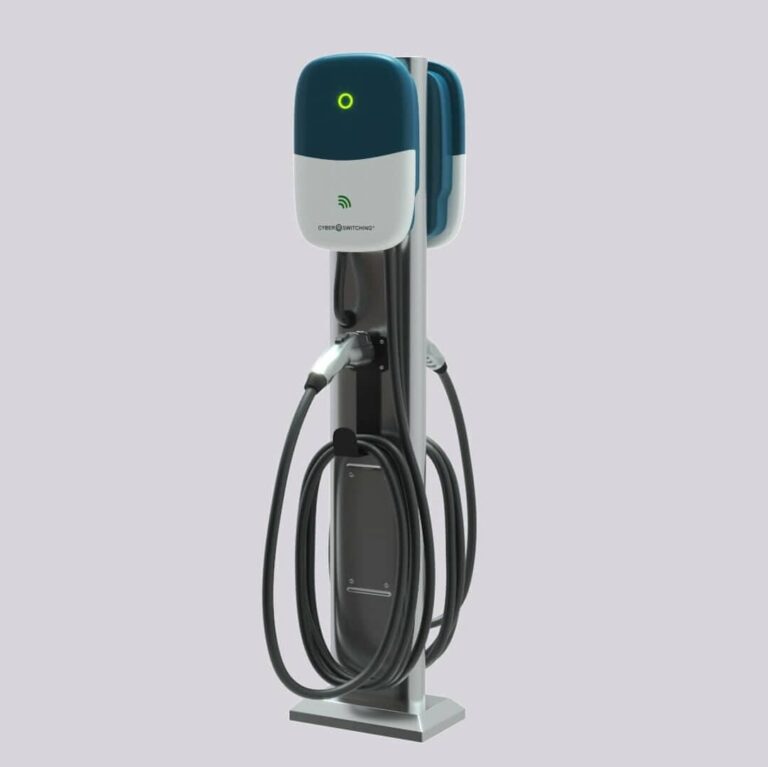 CyberSwitching Dual EV Charging Station