The Apartment complex and condo of the future need to be equipped with a suitable Electric Vehicle (EV) charging facility. This smart car home charging station should feature the best charging speed, design characteristics, and other features to suit the needs of every EV driver in the building
If you need guidance on choosing and installing the best home smart EV charger for an apartment complex or condo, this article will be of great help to you. Here we explain important features to consider, installation requirements, charging times for different chargers, explain costs, and more
What are the Most Important Home EV charger features?
Choosing the right features will help you find the best home smart EV charger, suitable for the home of the future. In this section, we explain these features
1. Physical Design Features
Port type (single/dual)
A home smart EV charger may feature two port types: single port or dual port. Single-port EV chargers feature one charging port, meaning that they only charge one EV at a time. Dual port chargers, on the other hand, can charge two EVs simultaneously and will reduce expenses, wiring requirements, and space. This makes it the most suitable option for an apartment complex or condo
Cord Length
The cord length for a smart home car charger should be long enough to connect the EV to the device without tensioning the cable. Available options start at 13 ft. (4 m) and go up to 25 ft. (7.5 m), which is the longest cable length permitted by the National Electrical Code (NEC) section 625
2. Technical & Functionality Features
Power Rate
The charging speed for an EV charging station is defined by its power rate. For apartment complexes and condos, this power rate should be high enough to rapidly charge EVs overnight or in a couple of hours, especially for community chargers. A level 1 EV charger features a power rate of 1kW, charging EVs in 40 to 50 hours, while level 2 EV charging stations go from 7kW up to 19kW and take 4 to 10 hours to charge an EV
Network Connectivity
Most smart home EV charging station options feature network connectivity that delivers advanced control features to the users. These can start/stop charging on demand via mobile apps or web platforms, granting EV drivers in apartment buildings using a community charger the possibility to be alerted when the vehicle is fully charged, allowing other neighbors to charge theirs
Smart Functionalities
Some smart home EV charging stations include groundbreaking features that optimize electrical resources in the building. The most important features include Dynamic Load Management which makes the best out of the electrical capacity in the building and Power Sharing which allows multiple EVs to be charged simultaneously even with limited electrical infrastructure
3. Compatibility features
Connector Type
The EV plug standard in the U.S. is the CCS1 Combo, featuring the J1772 Type 1 connector for AC charging and the CCS1 connector for DC charging. Tesla EV plugs are used in Tesla EVs, but they can implement an adapter to connect to a charging station featuring a J1772 plug. Home smart EV charging stations in building complexes and condos should feature this EV plug standard
Ingress Protection Rating
An important feature to be considered for a smart car home charging station installed outdoors is the Ingress Protection (IP) rating. For indoor installations, most EV chargers will work perfectly, but for outdoor installations, it is recommended an EV charger featuring an IP rating of IP66 or higher
How to charge
1. Charge Using a Regular Wall Socket
Regular wall sockets feature a 120V voltage that powers level 1 EV chargers, these deliver up to 8 amps to the vehicle, charging at a power rate of 1 kW. This EV charger takes around 50 hours to charge a 60 kWh EV battery, which is too long for most EV drivers, especially in apartment buildings
2. Charge Using an EV Charging Station
A smart home EV charging station should fully charge an EV battery overnight or faster. The power rate for a level 2 home smart EV charger goes from 7 kW for most residential applications, up to 19 kW for commercial applications, but these can be used in apartment complexes and condos
Using one of these chargers to charge the same 60 kWh EV battery will take around 3 hours for the 19kW charger and up to 8 hours for the 7kW one. Charging speed varies considering EV battery capacity and on-board EV charger limitations
What is the Best Time to Charge?
There are two criteria to choose the best time to charge an EV in an apartment complex or a condo. These are the following:
Energy mix (available clean energy)
Time-of-Usage (TOU) tariffs (cost)
To reduce your carbon footprint and Greenhouse Gas (GHG) emissions, you should charge when the energy mix in the grid features less thermal energy (dirty energy) and more green energy (clean energy). This is at night in most states that rely on wind energy, hydropower, and nuclear energy, or during the day for states heavily relying on solar energy
Another criterion to consider is the TOU tariffs featuring higher tariffs for peak hours and lower ones for off-peak hours. Most TOU tariffs match off-peak hours with a cleaner energy mix considering that producing thermal energy is expensive, which is why both criteria can match to choose the best charging time for an EV
Electric Car Charging Speed: What you need to know
To determine the charging speed for an EV using a particular smart home car charger, there are a few things to consider. These are the following:
EV battery capacity
EV charging station power rate
On-board EV charger capacity
There is a simple method to roughly determine charging speed. To do this, you need to divide the EV battery capacity by the power rate of the smart home EV charging station, but this can be limited by the on-board EV charger
For instance, the Tesla Model 3 features a 60 kWh battery that could be charged in 3 to 4 hours with a 19 kW EV charging station, but the on-board EV charger limits AC charging to 11 kW AC. This means that the battery will never charge in less than 5 hours and 30 minutes with AC power
Installing Charging Equipment in Your Home
To install an EV charging station in a building complex or condo, you need the right electrical infrastructure and permits. The permits include state permits, but they also include neighborhood council permits. Aside from proper permits, a smart home EV charging device requires the right electrical infrastructure featuring a 240V electrical connection
If a smart home electric car charger is destined for private use, each apartment owner has its charger, while for community usage, there are several charging stalls for the whole building complex. For private EV chargers, the apartment owner may pay for the whole installation, while for community usage a payment system and schedule will be set in place
Complying with Regulations
All EV charging stations should comply with NEC regulations, which is why they should be installed by certified electricians. The NEC also features section 625 which specializes in the conductor and equipment used to connect EVs to an external electrical power supply
Electricity Costs for Charging
Charging your EV with a smart home car charger is cheaper than using public charging stations. Considering that U.S. citizens drive on average 14,263 miles per year or 1,188 monthly, this would require a battery consumption of 3,600 kWh at an efficiency of 33 kWh/100 miles, but this efficiency varies between different EV models
Charging that 3,600 kWh would cost around $600 considering the average $0.167 electricity tariff. To charge that same energy at a public charging station would cost you $2,520 considering a charging cost of $0.70 per kWh, a much higher tariff for your monthly driving habits.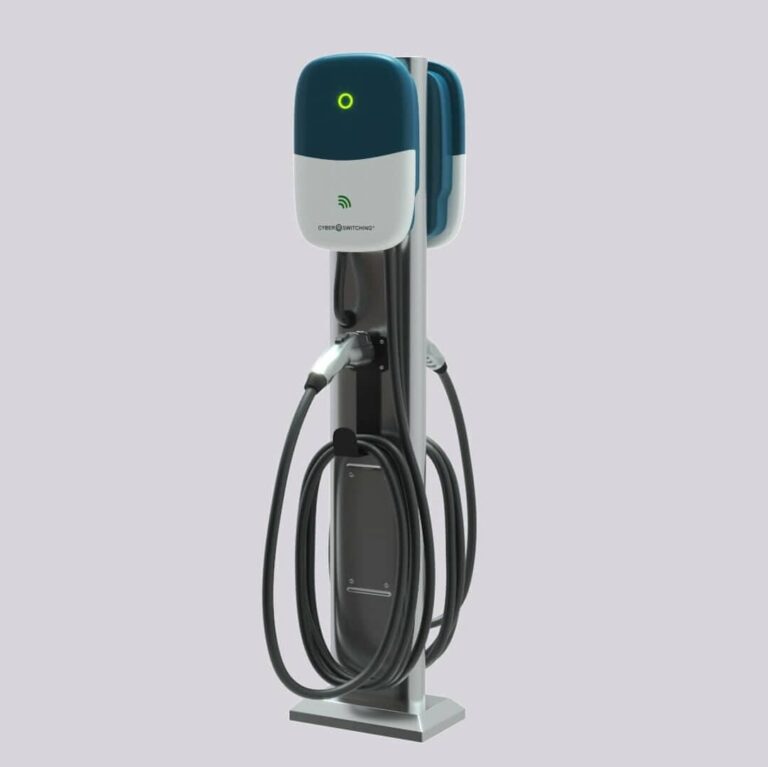 Cyber Switching Dual Charging Station
CyberSwitching Charger on Pedestal
Nick Zamanov is a head of sales and business development at Cyber Switching. He is an expert in EV infrastructure space and he is an EV enthusiast since 2012, Since then Nick strongly believed that electric vehicles would eventually replace Internal Combustion Engine (ICE) cars.