Level 2 EV chargers feature different power ratings and currents, going from 30 amps
(7.2kW) up to 80 amps (19kW)
, but we usually recommend a middle point of 50 amps to get a good performance. Using a 50 amp car charger usually hits the right spot, easily charging an EV overnight or in a few hours during the day. If you want to learn more about 50 amp car charger options and acquire one of the best models available, this article is for you. Here we introduce important features and aspects to look for in a 50 amp EV charger, review and compare the best 50 amp EV charger models and analyze the charging time for these.
50 Amp Chargers for Electric Cars
A 50 amp level 2 charger is a robust option featuring different specifications. In this section, we will analyze what to look for in one of these chargers.
Wall-Mounted or Pedestal?
There are two types of installation designs for EV chargers: wall-mounted or pedestals. Wall-mounted is the most popular option, these require wall space, but allow you to install an EV charger even when there is limited floor space. Pedestal EV chargers usually feature a higher aesthetic design (similar to gas station charging stalls), but require some important floor space for installation. For home applications it is more common to find wall-mounted applications while for commercial applications it is more common to find pedestal options.
Indoor or outdoor usage?
Indoor installations can use any type of EV charger, but if you want to get a 50 amp EV charger for an outdoor installation, you should be careful with the Ingress Protection (IP) rating. Most EV chargers feature an IP rating of IP44 up to IP54, but the only EV chargers suitable for outdoor installations are the ones
featuring an IP65 – IP66 protection rating
or higher.
Tethered or Untethered?
EV chargers may either come tethered or untethered. Tethered EV chargers include the charging cable pre-installed, but you have to be careful as not to damage the cable since this could render the charger useless. Untethered EV chargers, on the other hand, require an external cable that can be exchanged in the future if it is damaged.
Safety Features
When selecting a 50 amp level 2 charger, you should always consider the safety features included in the device. These features will not only protect the device and ensure optimal operability, but they will also protect you and your family. Some EV charger safety features include protection against over-voltage, ground fault detection, shutdown when the EV is disconnected, and more.
User interface
The user interface makes it easy to monitor, adjust, and manage the EV charger. Non-smart EV chargers include a simple user interface managed in the control panel, while smart EV chargers may include the display screen, but can also be accessible through a mobile App interface or a web desktop interface, granting you complete control over monitoring and adjustments over the device in a remote way.
Smart features
There are many EV chargers with smart capabilities, but not all of them are the same. Some include simple smart features like schedule charging, real-time monitoring, and similar options, while more advanced EV chargers include advanced features like power sharing, load balancing, and others.
We Review the Best 50 Amp EV Chargers
To find the best 50 amp car charger for you, it is important to pick among the best available options. After reviewing many EV chargers, we came up with a curated list featuring the 5 best 50 amp EV chargers.
ChargePoint Home Flex
The
ChargePoint Home Flex
is one of the best 50 amp EV charger models available. This charger features a wall-mounted design, an external charging cable (included), a variable charging speed of 16 up to 50 amps, and a great user interface via mobile app. The charger connects to the internet via Wi-Fi. There are
several smart features
included in the ChargePoint Home Flex that you can manage over the app. These include scheduled charging, reminder setting, charging tracking, Alexa voice control, and more. Additionally, it includes protection against overvoltage and under-voltage and ground fault detection.
PrimeComTech EV charger
The
PrimeComTech 50 amp EV charger
is one of the most capable EV chargers available. It features a 25 ft. or 30 ft. tethered charging cable, a wall-mounted design, and features like delayed charging, temperature metering, and others. All these features can be accessed via the display screen in the charger. The PrimeComTech charger features protection against over-voltage, under-voltage, over-current, over-temperature, and current leakage.
YK EV Wallbox
The
YK EV Wallbox
is another one of the best 50 amp level 2 charger models available. This is a wall-mounted EV charger featuring a 16 ft. cable, but it can be designed for a custom length. The EV charger can be monitored and controlled over a mobile app while connecting to the charger via Wi-Fi or Bluetooth. This charger features an IP65 protection rating, making it suitable for outdoor usage.
At a 50 Amp Charging Station, How Long Does it Take to Charge an Electric Vehicle?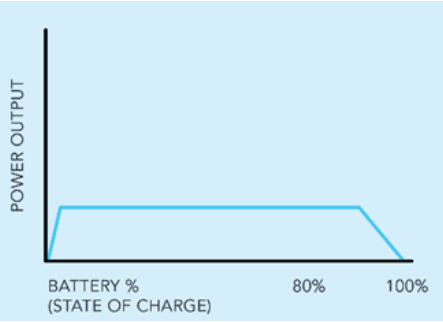 Figure 1: AC Charging Curve – Source: EVBox
In Figure 1 it can be appreciated that the EV charging process is not 100% linear, it slightly varies the charging speed at the beginning and the end of the cycle, however, we can roughly estimate the charging time using a 50 amp EV charger by dividing the battery capacity by the hourly power rate of the charger. A 50 amp level 2 charger operating at 240V, will deliver on average 12kWh per hour to an EV battery. Charging an
average 40kWh EV battery
would take around 3 hours and 20 minutes. Some modern EVs with longer driving ranges feature 60kWh up to 80kWh batteries. A 50 amp car charger would charge the 60kWh battery in around 5 hours and the 80kWh battery in 6 hours and 40 minutes.
Comparison Table for 50 Amp EV Charging Stations
Comparing all 50 amp EV chargers in the list will help you determine the best one for you. To help you with this, we created a comparison table featuring the best 50-amp EV charger options.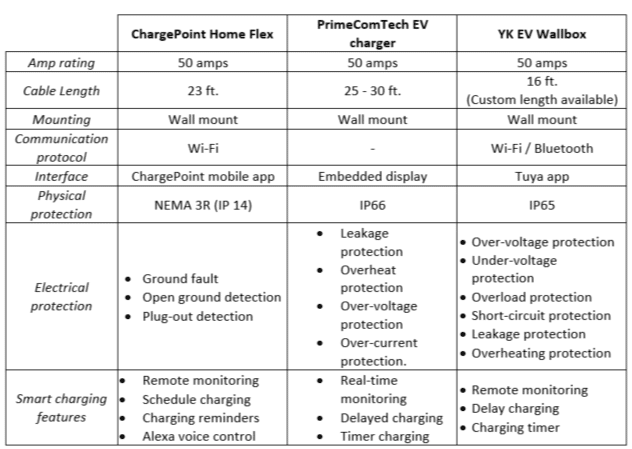 Table 1: Comparison table for the best 50 amp EV charging stations
CyberSwitching EV Charger on Pedestal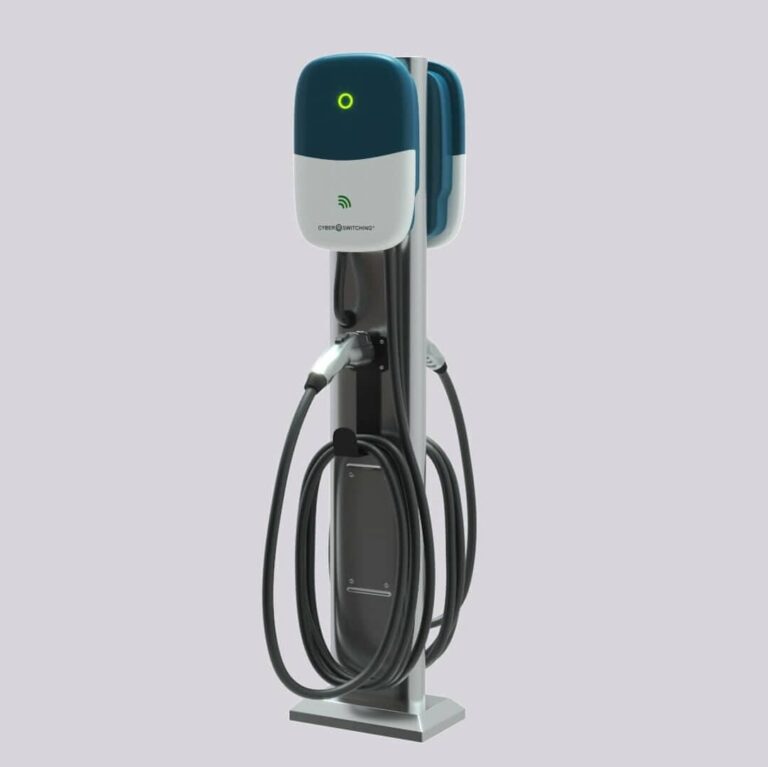 CyberSwitching Dual EV Charging Station